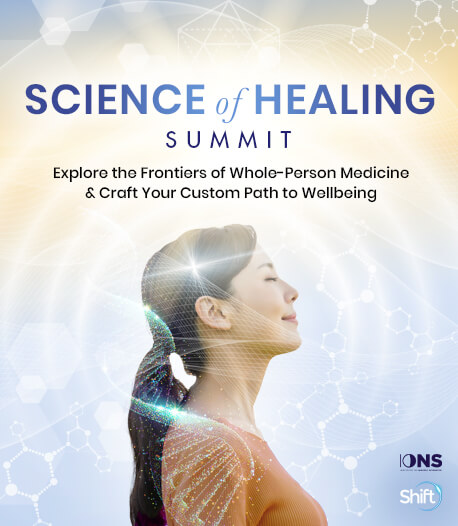 Program & Replays


Integrative Health and Medicine for a Holistic Healing

03/23/2023 9:00:00 PM
-
03/23/2023 10:15:00 PM
()
Add to Calendar
03/23/2023 2:00:00 PM
03/23/2023 3:15:00 PM
America/Los_Angeles
Integrative Health and Medicine for a Holistic Healing: Science of Healing Summit
Science of Healing Summit



Join Tabatha Parker, ND, as she explores in detail how different medical field practitioners achieve holistic healing. Learn about the obstacles in finding holistic integrative healing and medical modalities and what you can do to find the collaborative care you need.



https://scienceofhealingsummit.com/program
With Tabatha Parker, ND
Hosted by Helané Wahbeh, ND
Join Tabatha Parker, ND, as she explores in detail how different medical field practitioners achieve holistic healing. Learn about the obstacles in finding holistic integrative healing and medical modalities and what you can do to find the collaborative care you need.
In this session, you'll discover:
Different holistic health approaches have combined together, shifting to integrative health and medicine
Updates on the use of conventional and holistic medicine and efforts to achieve integrative health
How today's technologies help shift integrative health and medicine
The opinions expressed here are those of the author/presenter and are not representative of Shift Network employees, customers, or other presenters.
Love this Speaker and What They Have to Say?
It can be yours to keep... forever.
Get lifetime access to the summit and bonus material by upgrading now!
UPGRADE HERE
Tabatha Parker, ND
Executive Director, Academy of Integrative Health & Medicine (AIHM)
Tabatha Parker, ND, is a naturopathic doctor and executive director of the Academy of Integrative Health & Medicine (AIHM), a global community of holistic and integrative health professionals. She's received a variety of awards and honorary degrees, including 2015 Physician of the Year from the American Association of Naturopathic Physicians (AANP), an honorary 2nd naturopathic degree from the Canadian College of Naturopathic Medicine (CCNM) and the highest honor in naturopathy, Magister Natura from Spain, for her work advancing the naturopathic profession globally. In 2011, she was named a Visionary of the Year by UTNE Reader.
Tabatha co-chaired and was inaugural faculty in the National University of Natural Medicine (NUNM) Global Health Master's program, the first global health masters degree offered at a naturopathic medical school. She has also been faculty at Bastyr University, and currently teaches in the AIHM Fellowship.  She was founding co-secretary general of the World Naturopathic Federation, worked with the World Health Organization on the WHO Benchmarks for Training in Naturopathy.  She co-chaired the AANP Global Health Committee for over 10 years, and was an agency liaison/author for the Foundations of Naturopathic Medicine. In 2014, appointed by Governor Jerry Brown, she served on the California State Naturopathic Medicine Committee.
As co-founder of Natural Doctors International (NDI), Parker led this international service-relief organization for over a decade as the first naturopathic global health organization. Her clinical work in Nicaragua focused on women's empowerment and cervical cancer screening. She developed the first permanent global naturopathic clinic as well as naturopathic global health courses and interprofessional internships. In 2012, she became the first naturopathic physician to graduate as a Faculty Development Scholar from Dr. Ellen Beck's University of California San Diego program Addressing the Health Needs of the Underserved.
As NDI board president, Parker is the agency's liaison for the MOU with the Pan American Health Organization (PAHO), to aid the Nicaraguan Ministry of Health and the Institute of Natural Medicine and Complementary Therapies (IMNTC) to fully implement the WHO Traditional Medicine Strategy 2014 – 2023. In June of 2017, she attended the historic Regional PAHO Meeting of the Americas on Universal Health Care and the Contribution of Traditional and Complementary Medicine where leaders from the Americas and Caribbean region, Australia, Spain and China came together to discuss bringing natural medicine into national health systems and universal healthcare.
Parker is on the steering committee of the Medical Society Consortium on Climate and Health and the participates as a collaborator on the PAHO working group for "Universal Health in the 21st Century: 40 Years of Alma Ata to inform the Astana Declaration on Primary Health Care at the upcoming Global Conference on Primary Health Care.
In 2014 and 2015, she co-chaired one of the largest integrative health and medicine conferences in the USA, the AIHM Annual Conference — People, Planet, Purpose, Global Practitioners United in Health and Healing. She was also co-chair of the International Congress of Integrative Health & Medicine held in Stuttgart, Germany in 2016. She has held integral roles at AIHM since 2014 including education director and associate AIHM fellowship director, prior to her current role as executive director.
As a health activist for the integrative health and medicine global health community, she believes holistic healthcare is a human right, and works for parity for healthcare providers and full access for all patients to traditional, complementary, and integrative medicine.