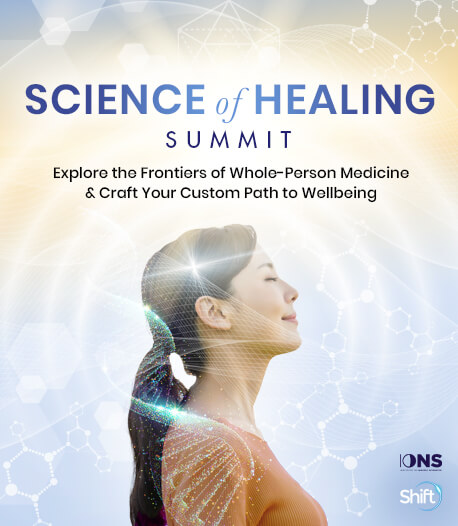 Program & Replays


The Exciting Science of Visualization: Accessing Your Clairvoyance to Make Changes in Your Real Life
Broadcast on March 20, 2023
With Cyndi Dale
Hosted by Helané Wahbeh, ND
Scientific studies show that visualization provides you with the power to assist in creating possible futures, performing healing, attracting desires, making decisions, and even – yes, this is true – getting in shape! Cyndi Dale will go down the rabbit hole of this mind-body research while simultaneously illuminating how many ways the ancient gift of clairvoyance can be accessed to enable visualization. Together you'll explore the many methods for visualization at your disposal.
In this session, you'll discover:
Science is substantiating the power of visualization to create life changes
Clairvoyance is an ancient and available mystical tool for performing visualization
There are MANY ways to apply clairvoyance to visualize, so there will be at least one that will work for you!
The opinions expressed here are those of the author/presenter and are not representative of Shift Network employees, customers, or other presenters.
Love this Speaker and What They Have to Say?
It can be yours to keep... forever.
Get lifetime access to the summit and bonus material by upgrading now!
UPGRADE HERE
Cyndi Dale
Author, Speaker & Intuitive Energy Healer
Cyndi Dale is an internationally renowned author, speaker, intuitive healer, and business consultant. Her groundbreaking books on chakras and intuition include The Subtle Body: An Encyclopedia of Your Energetic Anatomy... Advanced Chakra Healing... Energy Healing for Trauma, Stress & Chronic Illness... Energy Wellness for Your Pet... Llewellyn's Complete Book of Chakras... and Awaken Clairvoyant Energy.
Cyndi, who's been a natural intuitive since she was young, works worldwide as an intuitive coach and energy healer, having served over 70,000 individuals seeking to make healthy and positive changes in their lives. She is passionate about helping people open their "essential energy" — the powers and perspectives unique to them — and believes that once an individual understands their own essence, they can tap into the energies of and beyond the world.
Seeking to unify the world's most vital spiritual messages to encourage understanding and community among all peoples, Cyndi has presented seminars and workshops in Russia, England, Wales, Amsterdam, and Scotland, and has led groups across South and Central America and Africa. Her training, which encompasses shamanism and healing, has taken her to the Peruvian, Belizean, Hawaiian, and Costa Rican jungles, the Moroccan sands, the Venezuelan savannahs, and the glaciers of Iceland.