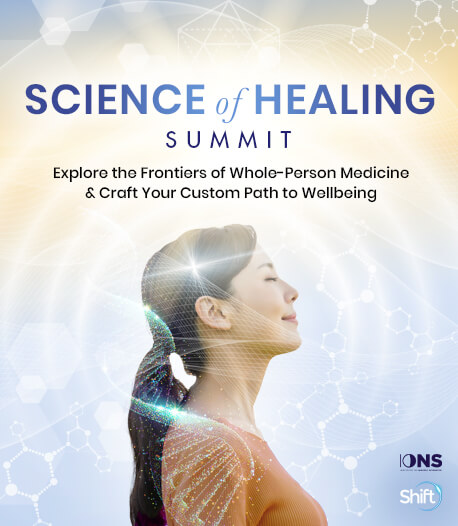 Program & Replays


How an Emergent Unitive Narrative Can Heal Our Past and Transform Our Future
Broadcast on March 20, 2023
With Dr. Jude Currivan
Hosted by Helané Wahbeh, ND
From earliest times, we have shared narratives to try to understand the nature of the world and our place in it. Join Dr. Jude Currivan as she explores scientific breakthroughs and wide-ranging evidence revealing that our current narrative of materialistic reality and apparent separation is fundamentally flawed. Instead, a whole-world view of non-locally unified reality, and a conscious and evolutionary Universe that meaningfully and purposefully exists to evolve, is enabling a new and unitive narrative to emerge.
In this session, you'll discover:
The Universe emerging in the simplest, fine-tuned, first moment of ongoing Big Breath — not the implied chaos of a Big Bang
Gaia and the Universe embody an inherent meaning and evolutionary purpose — we're co-creators & co-evolutionary partners
A 12-minute universal heart attunement
The opinions expressed here are those of the author/presenter and are not representative of Shift Network employees, customers, or other presenters.
Love this Speaker and What They Have to Say?
It can be yours to keep... forever.
Get lifetime access to the summit and bonus material by upgrading now!
UPGRADE HERE
Dr. Jude Currivan
Co-founder of WholeWorld-View (www.wholeworld-view.org)
Dr. Jude Currivan is a cosmologist, planetary healer, futurist, and author. She was previously one of the most senior business women in the UK, functioning as group finance director and executive board member for two major international companies. She has a master's degree in physics from Oxford University, specializing in quantum physics and cosmology, and a doctorate in archaeology from the University of Reading, specializing in the research of ancient cosmologies.
Jude has traveled to over 80 countries, worked with wisdom keepers from many traditions, and been a lifelong researcher into the scientific and experiential understanding of the nature of reality. The author of seven books, including the Nautilus award-winning The Cosmic Hologram and The Story of Gaia, she is a member of the Evolutionary Leaders circle, and in 2017 co-founded WholeWorld-View, a growing community of global change-makers serving the understanding, experiencing, and embodying of unitive awareness to empower conscious evolution.